There's a Kerala that lies beyond its backwaters, boat races, elephant rides, tea plantations, and spice markets. It is in the stories of Her people, their dreams and aspirations, and the traditions and values they hold sacred. The pulse of Kerala's people is in their dances, music, plays, and paintings. To know the quintessential Kerala, you have to explore the myriad art forms of the state.
Performing Art Forms: Behold a Spectacle
Rich colors. Languorous movements. Lilting tunes. Pulsating beats. The performing art forms of Kerala engulf the senses.
Kathakali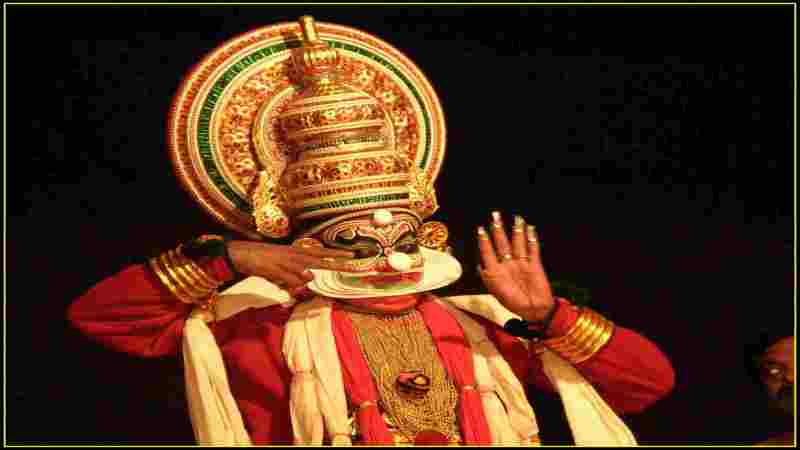 You have seen that elaborately painted face donning an ornate headgear and quivering and contorting to form a myriad of expressions. You have marveled at the fingers of the hand closing and opening in rapid unison to form a multitude of gestures. That's a Kathakali dancer in action, the most readily-recognized face of Kerala.
Kathakali is a 300-year-old classical dance-drama form where the dancers enact stories from ancient Indian epics. The grace of ballet. The pomp and festivity of masque. The drama of a pantomime conveyed without spoken words. The rich and high notes of the opera. Kathakali incorporates the facets of many different art genres but retains its identity as an art form that embodies Kerala.
If you are in Cochin, catch a Kathakali performance at the Kerala Kathakali Center. The center arranges the story being enacted. The Cochin Cultural Center too organizes Kathakali shows.
Mohiniyattam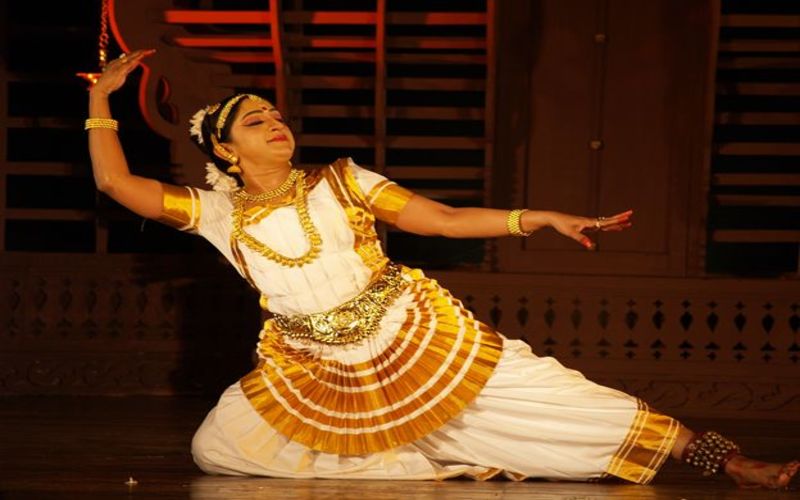 Sinuous, swaying movements. Evocative facial expressions. Intricate gestures of the hand. A Mohiniyattam dance performance is mesmerizing. This classical dance form has its origins in Kerala and embodies the enchanting beauty of God's Own Country. The dancer almost always enacts a story of feminine love—for God, her lover, or her child. She brings out the angst, pain, passion, lust, and joy of a woman who has surrendered to love, just with her eyes and hands.
The Greenix Village in Fort Kochi hosts daily dance shows—Kerala Kaleidoscope performances. You can catch a Mohiniyattam performance here.
"Politicians don't bring people together. Artists do."
–Richard Daley
Kutiyattam
Kuttiyattam dates back to 9th century A.D. and is the oldest classical dramatic art form of the state. Indeed, many scholars believe that it is also the oldest extant form of dramatic art in the world. Declared by UNESCO as one of the "Masterpieces of oral and intangible heritage of humanity," Kutiyattam is not just an art form; it is an entire cultural arena where Kerala's forgotten tales, lore, and traditions have been lovingly preserved and nurtured. It is also Kerala's sole surviving link with the rich Sanskrit tradition of India; a full-fledged Kutiyattam production is actually a single act from a major Sanskrit play.
Traditionally, a Kuttiyattam performance stretched for up to 40 days. The performances were confined to temple theaters. Nowadays, you can catch a concise version at the Koodal Manikyam temple at Irinjalakkuda and the Vadakkumnatha temple at Thrissur. For an authentic experience, you can watch a show at the Kerala Kalamandalam in Thrissur inside their Koothambalam—a wood-lined theater that is an integral part of the temple-heritage of this region.
Thiruvathirakali
Almost all of Kerala's performing art forms tell stories of grandeur, valor, raging passion, and epic battles. Thiruvathirakali is no different. But what is unique to this dance form is that over the ages, it has evolved to symbolize the everyday aspirations of the common man. Thiruvathirakali is performed to celebrate marital love and loyalty, by women who wish for wedded bliss.
Thiruvathirakali is traditionally performed on Thiruvathira day during December and January, but you can catch a performance at one of the many cultural centers of the state throughout the year.
Martial Art Forms: Admire the Vigor and Valor of a Resilient People
There is beauty in harmony and rhythm. The movements, stances, and feats of the various martial art dance forms of Kerala combine grace with strength and speed with flexibility and dexterity, so every routine translates into a visually intriguing and awe-inspiring spectacle.
Kalaripayattu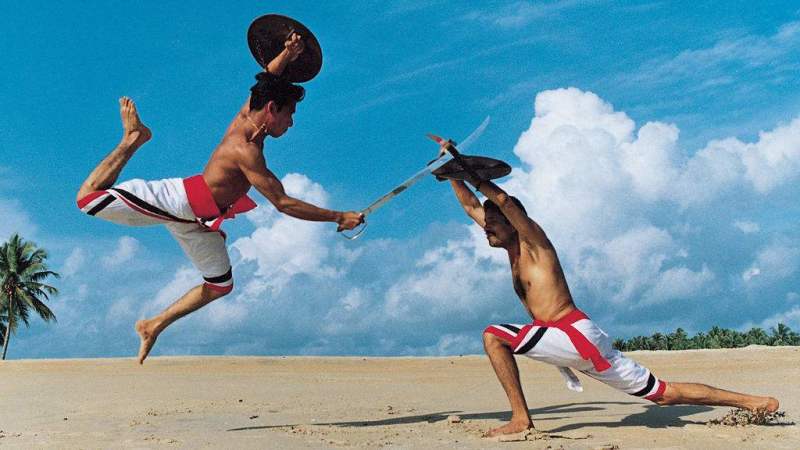 You have seen it—bodies leaping in the air and executing perfect somersaults before landing deftly or two fighters wielding swords, spears, and daggers jumping, swerving, lunging, and carrying out a whole range of intricate but vigorous movements in unison. Kalaripayattu is one of the oldest martial art forms in the world. It originated in Kerala and practitioners still follow the traditional fighting styles during the dance routines.
Catch a Kalaripayattu performance at the Kerala Kathakali Center in Cochin, Kerala Kalamandalam in Thrissur, or Kadathanadan Kalari Center in Thekkady.
Velakali
If there is one word to describe Velakali, it is "grand." Watch a performance at the Ambalappuzha Sree Krishna temple in Alappuzha during the Ambalappuzha Temple Festival held in March-April every year. A bevy of male dancers don the traditional attire complete with an elaborate headgear. They move around vigorously, swish their swords firmly but deftly in perfect sync with the thumping beats of various traditional Keralan musical instruments.
Folk and Tribal Art Forms: Hark Back to Kerala's Cultural Origins
The folk and tribal art forms of Kerala developed in isolation and away from mainstream influences. They represent a unique facet of Kerala that you can experience if you venture out of the traditional tourist hubs.
Kolkali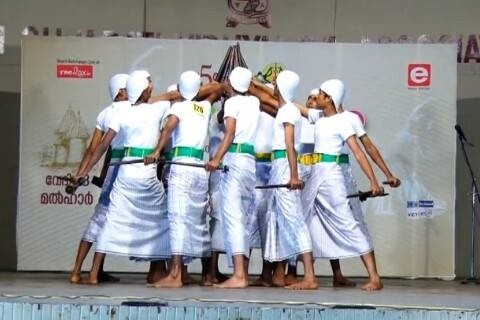 The rhythmic dance form of Kolkali is popular amongst the Muslims of the north Malabar region. The dance is performed by men who wield two sticks and dance in circles to lilting tunes.
The Kannyarkali dance is popular amongst the Nair community of Palakkad. Though it has roots in the vigorous martial arts traditions of the state, over the years, Kannyarkali has evolved and has incorporated the gentle, swaying movements of folk dance forms. You can catch Kannyarkali performances in the temples of Palakkad during the months of April and May.
Ritual Art Forms: Discover the Hidden Roots of Kerala's Beliefs
The beliefs, values, and ideals of a people are shaped by the stories and rituals they preserve through the ages. The ritual art forms of Kerala hark back to these roots and provide insights into the psyche of the people.
Theyyam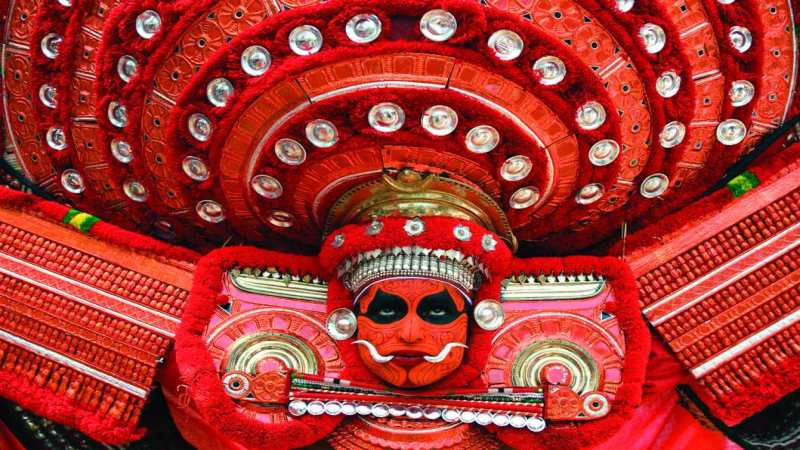 Theyyam is undoubtedly the most popular of all ritual art forms of Kerala. It is an intriguing amalgamation of dance and mime to depict stories of mythical heroes and spirits and is performed to the accompaniment of music. You can catch Theyyam performances at the Parassinikadavu Sri Muthappan Temple in Kannur on all days from December to April.
Padayani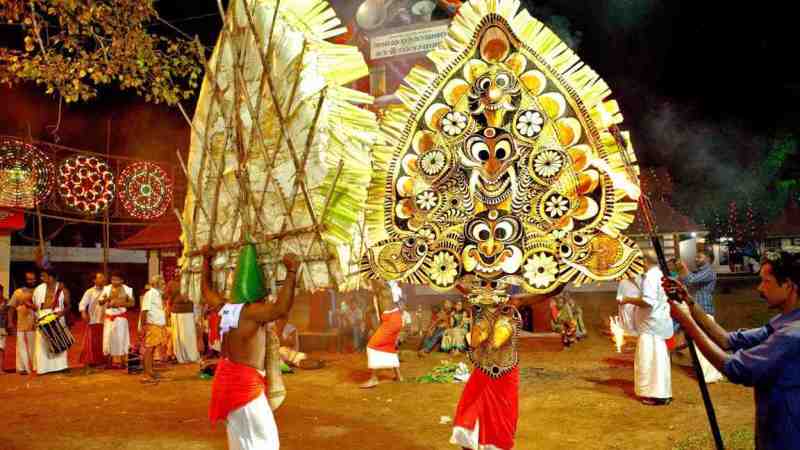 Everything from the gigantic ornamental headgear to the vigorous movements makes a Padayani performance is a visual treat. Padayani performances are common during the months of March and April across Pathanamthitta.
Take the help of local guides or travel agencies that know Kerala inside out to discover more such unknown and lesser-known artistic traditions of Kerala. Explore and immerse yourself in the art forms of Kerala to feel the heartbeat of Her people.